The Forex industry is one of the most rapidly moving, internationalised markets in the world. Even now, millions of traders worldwide are responsible for trillions of dollars worth of transactions happening daily. To put that in perspective, that's more activity than the Dow Jones (DJI).
Over the coming years, the industry is poised for spectacular growth as traders enter the market from newly influential and competitive emerging markets.
Regions like Latin America, Asia and the Middle East, for example, are expected to see continual growth in trader presence.
Far more than just more traders entering the industry, it's how they're trading that presents an interesting challenge too. According to Finance Magnates in 2019, the number of mobile-using millennial traders are expected to double throughout 2020/21.
With all of these opportunities, payment solutions need to make sure that they have the capability to keep up with the exciting pace the Forex has set.
What Matters in Taking Payments for Forex?
With trillions of dollars being moved annually between traders from all over the world, it's important to have a payment system that's capable of matching the pace of your business.
What factors matter for a payment solution?
Scalability
Highly Secure
Regulatory Compliance
Globally Present and Versatile
Scalability
Over the next few years alone, the forex industry will be undergoing some healthy growth. From 2020-24, for example, Forex is expected to experience a Compound Annual Growth Rate of 6%.
If we put this into perspective, trading volumes could very well grow from a peak daily trading volume of $6.6T this year, to over $7T in 2021. With this growth is the expected increase in the number of active traders worldwide.
In total, there are over 9.6 million traders situated in Asia, America, Europe, the Middle East and Latin America. But as emerging markets start to enter into the Forex market, it's clear that the amount of traders is going to spike too.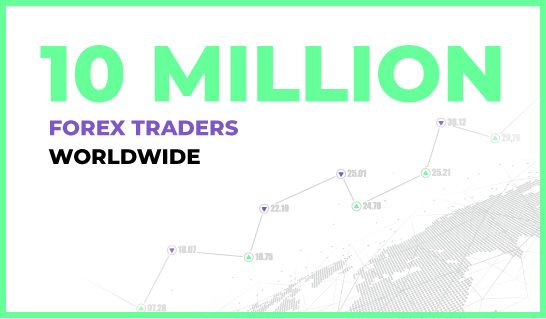 Individual traders are also reliably making trades as often as ten times a day. When you think about how quickly those transactions/trades have to take place, efficiency and scalability are vital.
Unlimint's experience in working with Forex traders on a varying scale has given us the insight needed to ensure that our payment solution is up to par with the hustle and bustle of the Forex market, at any level and at any time.
Highly Secure
Trust is the hardest thing to build and maintain, and the easiest thing to break.
With digital trust being tested by the growth of cybercrime, nobody wants payment solutions that you have to be concerned about. For Forex traders, trades need to be fast, far-reaching and remarkably secure.
Unlimint boasts a much sought after payment acceptance rate of 97.8% when handling and processing payments between businesses. And it's all possible thanks to our special emphasis on high security while making sure that it's not at the cost of speed.
Regulatory Compliance
Regulations and Forex have always had a challenging relationship, with companies having to implement and adhere to new and adapting policies while making sure that it doesn't damage their potential to continue trading.
Regulations, meanwhile, always have to keep this dynamic in mind, and it's the reason why Unlimint works to meticulously ensure that its payment solution is in compliance with existing regulations.
Meaning that forex traders can spend less time worrying about whether their payments are on the level, and more time on turning a profit.
Globally Present and Versatile
The Forex market is present all across the world and is only going to get bigger and more dynamic in the next few years. With so many different countries, currencies and payment options, a Forex-facing payment solution needs to act like a passport for your business.
So while some of the top Forex pairings remain centred around USD, EUR, GBP, etc, emerging markets and their competitive currencies are bound to make waves.
That's why Unlimint is proud to support thousands of different alternative payment methods and domestic currencies.