Over the first months of 2020, Coronavirus has managed to do what very few crises have done to the international economy – grind it almost to a complete halt.
While it's hard to calculate the full scale of its effect so far, markets and countries all over the world are falling into the red and calling for new stimulus packages to weather the storm.
The world of retail is, one of the worst-hit of all, and that's an unfortunately understandable situation. With COVID-19 now having 550,000 cases and impacting millions worldwide, social distancing and self-isolation have eliminated the regular footfall that these businesses could rely upon.
---
---
Companies like Nike, Apple, Macy's and many more, have since shuttered their physical stores. And the longer they spend that way, the more disastrous it could be.
With many facing the sharp sting of negative returns, Macy's is one unfortunate example – which has seen its stock plummet from $6bn in February, to $1.5bn, making it one of the many casualties of COVID-19.
It's estimated that more than 630,000 retailers have closed over February and March, with some never opening again.
Industries Most Affected by Coronavirus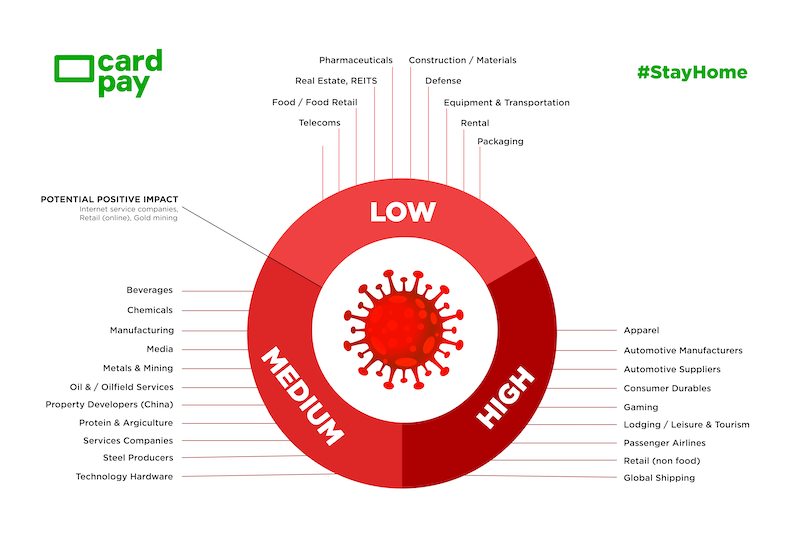 But while big brick and mortar stores have been suffering under the weight of pandemic crises, businesses that dedicated more time to online retail, or are focused as eCommerce businesses, are coming face-to-face with a tremendous opportunity.
Nike, for example, facing widespread closures, managed to rally thanks to a dramatic rise in online sales and an enthusiastic campaign of virtually engaging with its customers.
---
---
With shopping in-stores now out of the question, for the time being, this shifts public focus over to just how their needs can be met online.
There's no denying that businesses are experiencing a wrenching jolt downwards, no matter what their industry. But there's a big opportunity for online and eCommerce businesses right now.
There are several questions worth asking where online shopping and COVID-19 are concerned – is this what will propel online eCommerce from an emerging player to front-runner? And whether or not it is, how does this all affect eCommerce businesses?
Pushing eCommerce to the Forefront
Being the first region to be hit with COVID-19, Asia has demonstrated a glimpse into the future for eCommerce and online shopping, as a whole. Ever since adopting a 'stay-at-home' economy, online retail there has grown in some profound and exciting ways.
---
---
Online grocery shopping is just one of them; with a growth of 62.9% in 2020, a two-fold increase when compared to 2019's 29.2%. And this is something that spreads beyond just Asia's online economy.
Southern Europe, specifically Italy and Spain, have seen this same transition to a stay-at-home economy. Within weeks, online retail shot up from reflecting a fraction of all sales, to the primary method for people all across Europe.
But while regions like Southern Europe and Asia have had time to embrace eCommerce business, countries that have only recently gone into lockdown have seen online, and physical sales drop before they ramp up.
eCommerce: Making Your Business Pandemic Proof
The current situation carries its share of opportunities for eCommerce to emerge from the pack. Businesses need to be ready for the challenges that come with this new, albeit fleeting situation.
Managing Scale
eCommerce in regions like Asia, the UK, USA and Europe has increased significantly over a brief window of time. But it's that same sudden uptick that can hamper an eCommerce business' ability to do business.
---
---
Customers today have an ingrained number of expectations the moment that click onto a site. As a result, if your eCommerce platform takes too long to load, then those prospective customers will click off and never come back.
One of the other sides to scale is understanding just why so many people are getting online. Products like health, fitness and wellbeing, medicine and food are among some of the products that have seen massive boosts in popularity online.
Retail Segments by Monthly Growth:
Electronics – 87% Food and Beverage – 471% General Retail – 113%
Health – 52% Home Supplies – 40% Outdoor Equipment – 78%
According to Adobe, online sales of medical products increased by 807%, while toilet paper grew by 231%, demonstrating just how big of a challenge businesses have to face to meet demand.
Over such a short space of time, it's vital to re-evaluate your stock and make sure that you're able to keep up with the scale and provide plenty of just what they're looking for.
---
---
Lowering the Barrier to Entry
For regions of the world like Europe, one of the reasons for this great transition over to online retail comes from an audience that either doesn't commonly shop online. Or, has never bought online before.
This newcomer population is a serious and hard development to respond to, especially if your business is built with a certain amount of 'accepted knowledge' of navigating websites.
If customers have high expectations and very little patience, the same is doubly true of those that are brand new to the whole experience.
The solution is to look back at the average user's experience while visiting the site, and find out just how to enrich and simplify that same customer's experience.
---
---
Streamlining Payments
More customers mean more demands, especially as people look to buy from businesses all across the world. Your eCommerce platform has to be able to do business with anyone from anywhere, without unnecessary friction.
That's payment acquirers like us at Unlimint offer a payment-agnostic approach: giving companies a smooth, highly secure way to operate locally and globally.
With the ability to process payments through more than 300 payment methods and hundreds of domestic currencies, having a payment solution like Unlimint can take the friction out of your eCommerce business.