The Asian eCommerce market has been and remains one of the most exciting places to look for consumers and businesses. There's a lot to learn from this continent, from its embrace of smartphones, 5G, and super-apps, to its local and global mindset.
It's a mindset that has paid dividends for this market, with Asia's eCommerce market expected to reach $3trn by next year, making up two-thirds of the global eCommerce world.
So, what is fuelling this rapid growth? A certain amount of it comes from the fact that the market is built on top of a strong foundation of domestically-driven, cross-border eCommerce.
Going Cross-Border in Asia
While the continent has seen a dramatic uptick in eCommerce over the past few years, cross border eCommerce is an area that businesses should pay close attention to. Mostly because cross-border between countries in Asia requires one thing consistently applied well – localization.
It's this commitment to localizing how businesses sell to neighboring countries that have allowed for domestic eCommerce to grow at a healthy pace.
Platforms like Alibaba, Lazada, and Shoppee have come to demonstrate the benefits of fine-tuning a platform for cross-border consumers. This explains why, according to Research and Markets, the share of people making cross-border purchases has grown from 50% to almost three-quarters from 2019/20.
While some of the major players in the eCommerce market include China and India ($1.057trn and $64bn respectively), more than 50% of cross-border eCommerce taking place within Asia comes from just two countries – Malaysia and Singapore.
Malaysia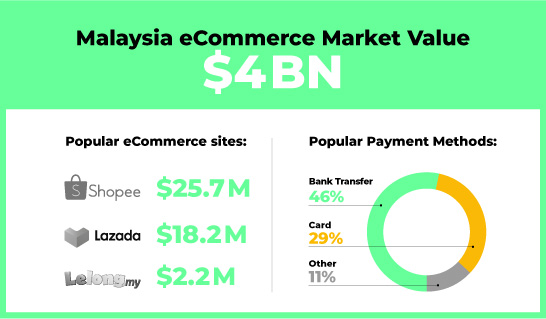 For Malaysia, the rapid growth of eCommerce has only just begun. Over the next four years, eCommerce is forecasted to reach over $8bn, while the number of customers grows alongside it. There are many drivers behind this, and two are increased access to smartphones and the internet.
This access has allowed Malaysia's pool of eCommerce consumers to hit over 20 million: two-thirds of its population. Even so, the breakdown of eCommerce is particularly interesting, with 40% of all purchases being cross-border between Malaysia, China, Singapore, and Japan(1).
Having 40% of eCommerce be cross border would give the impression that the remainder is split between international and domestic eCommerce. But what accounts for this split? A lot of it comes down to access, availability, and variety.
Come for the Access, Stay for the Variety and Cost
While a lot of it does stem from competitive prices and variety, 49% of customers make the point that a lack of domestic alternatives compels them to switch to eCommerce sites like Lazada and Shoppee for what they're after(2).
This is something that sites like Lazada, one of Malaysia's largest eCommerce platforms, provide for by offering a one-stop for users looking for goods both in and outside of Malaysia. In particular, consumers have looked to cross-border businesses to satiate their appetite for Electronics, Fashion, and even Travel and Tourism, making Malaysia a multi-billion dollar market as a result(3).
While access and variety are big selling points for Malaysian consumers, here's what consumers really look for in an eCommerce business.
Quick and Reliable Shipping
One of the reasons why cross-border and domestic eCommerce have proven so popular is because these businesses work to set up strong local logistics and supply chains. We can see this by the fact that the majority of customers expect delivery times of 3 days to one week. While this sounds impressive, it's actually one of the longest delivery times on the continent, so there's certainly room for improvement.
For customers, delivery time is a big deal, with 90% of complaints being due to late delivery or poor experiences with shipping. The longer a product takes to arrive, the more likely the customer is to write a bad review or report a negative experience.
The lesson? businesses looking to situate themselves in Malaysia would do well to hone in on, and provide the fastest rate of delivery possible, not just to ensure customer satisfaction, but to also outpace local and cross-border competitors.
Singapore
Consisting of a population of 5.6 million, Singapore represents an eCommerce power in its own right. With a market value of $4.9bn, we expect to see this nearly double by the end of 2023, hitting $8.6bn.
For businesses outside of Singapore, the country has a voracious demand for cross-border eCommerce, with 73% of all eCommerce being cross-border. Countries like Malaysia, South Korea, and Japan, for example, are the most popular markets for Singaporeans looking for holiday destinations, electronics, and the latest fashion(4).
This cross-border eCommerce is fuelled by Singapore's youthful, highly digital, and social-minded consumer base. Attributes that are worth serious consideration when looking to set up in Singapore.
Click and Mortar – Digital and Physical Partnerships
This doesn't mean that brick and mortar is out in the cold, mind you. Physical retailers have taken on a mixed approach to online shopping and physical showrooms. Something we're coming to know as 'Click and Mortar.'
For many Singaporeans, the winning formula is a strong online presence with a small batch of physical stores and showrooms. It's easy to understand why: online eCommerce allows customers to access more brands at cheaper prices, while physical stores serve as a showroom and chance for users to test out and try before they buy.
Companies like Urban Story for example, as an online fashion retailer, partnered up with physical stores in order to provide customers with all the accessibility and flexibility of online retail. A testament to the importance of blending the best of these two worlds.
For companies looking to set themselves apart from local competitors, collaboration with physical stores is key! Allowing you to plug into a population that is already 83% online, and eager for the best of both world's experience for eCommerce.
With the experience set apart from competitors, businesses of any kind should also pay close attention to the power of social media to really zero in on their potential consumers.
The Social Effect
According to a survey by Picodi, 77% of online shoppers in Singapore are aged between 25-44, the same age groups that are more inclined to shop via smartphone or desktop instead of via physical shops.
The only thing more impactful on the eCommerce market in Singapore, next to smartphone and internet penetration, is the power of social media in informing customers on what brands provide the most 'bang' for their buck. In fact, 60% of these same shoppers take to social media for recommendations and promotional discounts(6).
Just like click and mortar, a strong social media presence as both a hub of communication and unique discounts is a winning formula for any business looking into the Singaporean market.
The dramatic rise of local and cross-border stores like Shopify and Qoo10 has been thanks, not only because of their variety, but also sincere consideration of having a strong multi-channel approach towards customer engagement, which includes social media.
Going Cross-Borders Needs a Cross-Border Payment Solution
While countries like Malaysia and Singapore are divided by their spending behaviors, wants, and needs from businesses, the need for an all-encompassing payment solution is something that makes these countries all the same.
Across Asia, in addition to the immense popularity of conventional payments (credit/debit cards, cash, and bank transfers), there's no denying that digital/mobile wallets and domestic APMs have grown in popularity. For Malaysians, this is a big sticking point for retailers and physical stores to land, with 70% preferring stores that provide digital payments.
Of course, China is the biggest example of this dramatic growth of digital domestic payments, which made up 49% of all spending within its digital travel sector.
It stands to reason then that businesses looking to enter this bustling world of cross border eCommerce in Asia need to seriously consider how they handle payments. With a premium placed on them in Malaysia and Singapore as just two examples, nailing this can set you apart from the competition with ease. And it's here that Unlimint proves vital to this cross-border success.
For customers and businesses, Unlimint represents the best kind of flexibility when it comes to payments. With thousands of internationally and domestically accepted payments, customers will be able to pay how they want, the way they want. For eCommerce businesses, this is a clear win-win, letting you sell to users across the world, and easily translate that success across to the up and coming Asian market.
Adjoined with this need for flexibility is an innate need for payments done flexibly, quickly, and securely. In addition to hosting thousands of APMs, Unlimint pairs this with a reliable and secure system that drastically reduces chargebacks, while ensuring high approval ratings for payments, and a competitive set-up for transaction fees.
We have always been a firm advocate for flexibility when it comes to payments. It's for that reason that we're proud to boast services like recurring and installment payments. Through our streamlined, all-in-one API, your customers can set up manageable, 0% interest installment payments over 3, 6, and 12-month increments.
No matter where the 'borders' are in cross border eCommerce, Unlimint strives to take your payments and business beyond them. 
---
1 – Janio, (2020). 'The Ultimate eCommerce Guide to Shipping to Malaysia.'
2 – Janio, (2020). 'The Ultimate eCommerce Guide to Shipping to Malaysia.'
3 – Digital 2019 Spotlight: eCommerce in Malaysia – https://datareportal.com/reports/digital-2019-ecommerce-in-malaysia
4-6 -Janio. (2020). 'The Ultimate eCommerce Guide to Shipping to Singapore.'